I am simply floored and humbled by how much I have learnt through the process.
In August we made
Scrappy Trip Around the World
blocks. I thought this would be a piece of cake - simple squares - but I was made to eat my words! Here are the blocks I contributed to September's Quilt.
How cute does the final quilt look?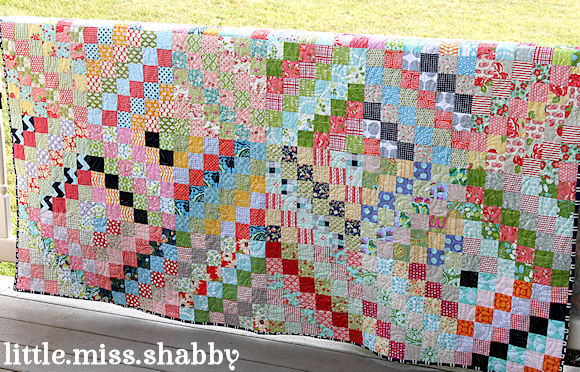 Again I learnt how little I knew about piecing. My blocks are above and the finished quilt is below.
In October it was my month to choose a pattern and be the quilter. I hummed and haa'd and bugged Corey with lots of silly questions. I finally decided on a Navy & Aqua Chevrons. Here is the finished quilt.
I quilted each white chevron in a different design.
And here is the back. Using up 3 left over strips. I am really working on making my backs a bit more interesting. I see lots of quilts out there which have clever backs - and I will be putting a lot more thought into my backs from now on.
In November we made
Flying Geese for Carla
. My blocks (below) have been lost in the post somewhere and have yet to make it to Canada.
But here is the quilt that Carla put together.
And January was our last month - and we made these
'Not Quite a Sawtooth Stars'
and sent additional fabric along with this block (see mine below) that Jody is going to make into a larger medallion for the center of the quilt.
My biggest disappointment was obviously my geese not flying all the way to Canada. But I have thoroughly enjoyed being a part of this quilting bee and I hope to be part of more in the future too.